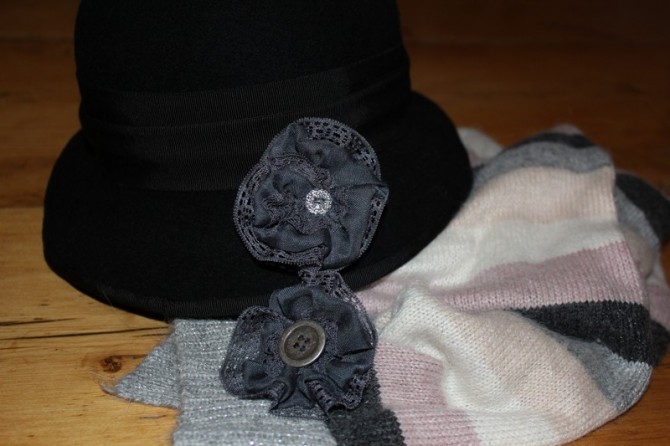 Vintage Brooch (Vintage style/shabby chic style!)
Don't you love vintage brooches? I think these look equally great on a summer dress, woollen coat, or your favourite hat! Using wide lace and sticking to just one colourway gives them a lovely shabby chic/vintage look which I love. They're also a great way of using up (and therefore a great excuse of buying more!) odd buttons.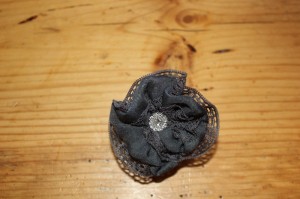 You will need:
Wide lace
Fabric in a similar colour
Basic sewing kit
Button(s)
Brooch back
Your fabric will need to be the same length, but around 1cm wider (deeper) than your lace.
Before cutting your lace or frabric to a particular length (which will depend on the thickness/rigidity of the lace), lay the lace on a flat surface. Fold your matching fabric (not lace) in half lengthways and pop it on top of your lace with the raw edges at the bottom. Position it on the lace, leaving a third of the lace showing at the bottom. Fold this bottom third of lace upwards to give you four layers (2 of fabric plus 2 of lace).
Pin the end in neatly. Stitch the end then use running stitch along the bottom of your lace/fabric length. After just a couple of centimeters, pull the thread taut to gather the fabric. Experiment a little by gathering more, then less, to see what effect you prefer. Keep going for 10cm or so and you will find the fabric naturally starts to shape itself into a flower. Cut to your preferred length, remembering to turn in the other end as you did at the start. One end will become the front of your flower and the other end will be at the back. Stitch to secure the shape.
Add your button, then your brooch back. Ta-dah!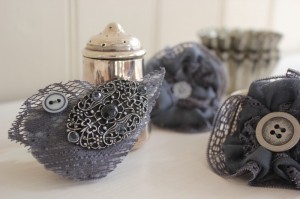 And what about a cute little bird? Click here for details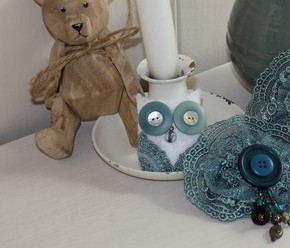 or an Owl? Click here.
Vintage Brooch (Vintage style/shabby chic style!)

Once you start on these brooches, you soon find you have made half a dozen, as each one spurs you on to make another and you alter the design slightly as you go. Because they take such a small amount of fabric, they're an ideal use for off-cuts.
Attach a hair clip instead or, even better, attach a hair clip AND a brooch back to get the most wear from your piece. Told you they were simple! Don't you just want to keep making more and more?!