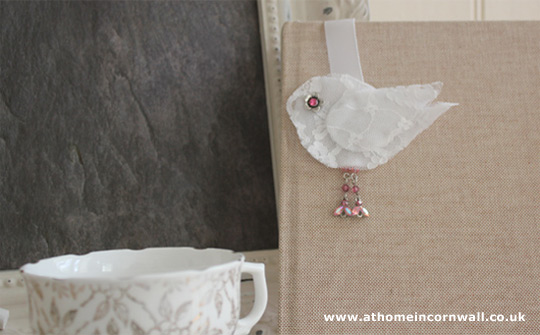 Scented shabby-chic style Bookmark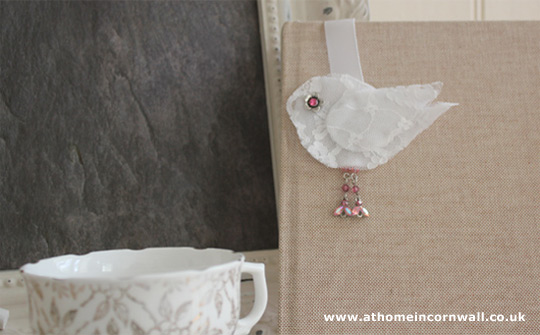 A great alternative to the usual piece of scrap card I usually use, this bookmark is scented so you'll get the odd whiff of lavender. If you love books, birds or just love shabby-chic style, this is a great little item to make and give (or keep…!).
You will need:
Felt
Lace
Sewing thread and invisible thread
Beads/old jewellery
Ribbon
Paper for template
Scissors, needles, pins, dressmakers chalk, etc.
Wadding (for filling)
Dried Lavender
Draw a template onto card and use to cut 2 pieces of felt for the body and one for the wing. From the lace, cut one piece, slightly larger all around, for the body and one piece the same size as the felt for the wing.
Layer the lace wing on top of the felt wing, before the lace body on top of one of the felt bodies. Use a few stitches to keep the wing in place.
Turn over and stitch your beads or pieces of jewellery as legs to the reverse. Attach on end of your ribbon and cut the other end into a V. Turn right-side up and attach they eye. If you are using an earring for the eye, push it through all piece but be very careful when bending the post at the back – they tend to snap off very easily. For this reason, choose a piece which lends itself to being stitched as well. I choose this flower for its petals which were easy to stitch between without obscuring the stone. Even though I have used 'invisible' thread, it would still be seen if you were you look up close. And yes, the post did snap off when I tried to bend it!
Stitch the 2nd piece of body felt to the back, leaving a few centimetres open but without cutting you're your thread. Pour in some lavender and stitch the opening closed.
The scent can easily be revived with a few drops of essential oil. Don't limit yourself to a scented shabby-chic style bookmark – what other animals and shapes do you love?
Wardrobe scenter
Stitch both ends of the ribbon to the bird and hang in your wardrobe or to hang on a drawer knob. Just bear in mind that the oil from the lavender could transfer so don't let it touch delicate fabrics or use let it stain your drawer front.