Vintage china Teacup Exchange – It's Tea Party Time Again!
Surprise parcels in the post – aren't they just great? And when it includes vintage china – what can I say? Well…
Before delving inside the plain brown box I received as part of the Vintage china Teacup Exchange, I looked for a postal mark or return address… Brady, Texas – all the way here to little ol' Cornwall!
A very generous lady called Doniene had sent me this gorgeous silver-edged tea cup trio – isn't it lovely?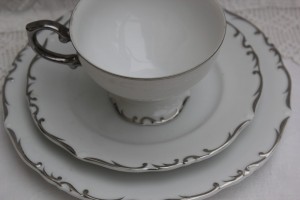 The cute silver spoon was her Grandmother's…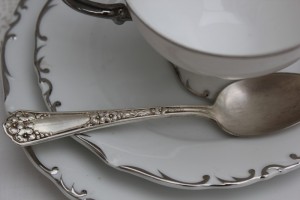 A whole bundle of lovely pieces of hand stitching including this gorgeous button pincushion, which Doniene makes herself at home on her ranch. Sounds idyllic, doesn't it? Her stitching is soooo neat and her quilting looks just lovely. You can see her blog here.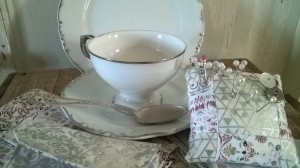 And, of course, there's even tea – all in all, a dream parcel I'd say!!!
Doniene – I hope you are half as chuffed with your own parcel.
And, of course, many thanks to Stephanie at The Enchanting Rose for organising the whole exchange and introducing us all!