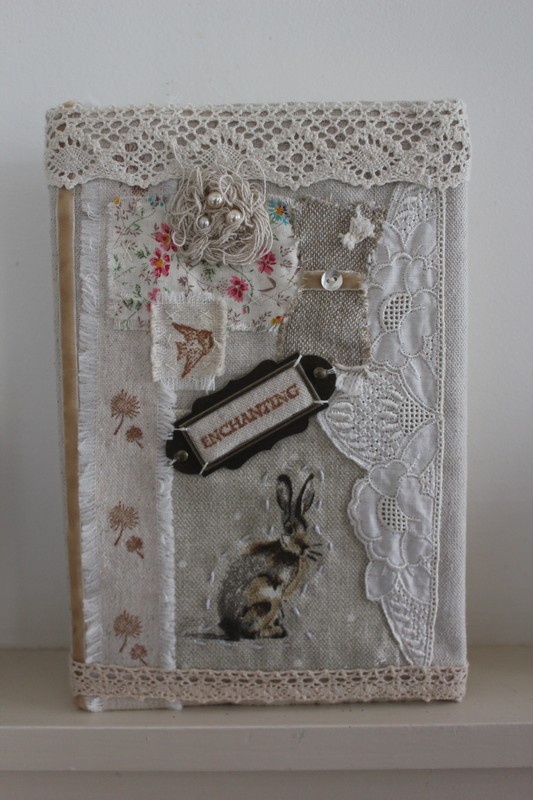 I've been making a few book covers recently – I started with a couple of favourite pieces of fabric, then a few more, and then a few more. It has been lovely rummaging around and using old pieces of lace and buttons I have been hoarding for some time now. I have a small stash of half-made covers waiting for that last button.
Some of the fabrics are many years old, some more recent and I have spent so much time looking for the button – I remember the button well, now all I need to do is find it. And that's another evening gone as I get sidetracked while going through boxes of button-loveliness. Hmmm…
The photo is of a diary cover I made for myself. I made some cushions for my sister and my sister in law recently using this adorable hare fabric. When I went to buy the second lot I made sure I bought enough to make something for my cottage as I really fell for it. Although the fabric is brand new it is linen and great to work with – my sewing machine loved it.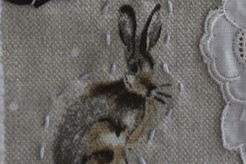 I've also been stamping onto fabric – alliums and birds – which are reminding me that I can't wait until Spring kicks in properly – warmer days and lots of time outside I hope! Well, I'm off to finish a couple more of the covers before I call it a night. That is – if I don't get sidetracked by those gorgeous sparkly beads I unearthed in a button box yesterday and start making something else instead…