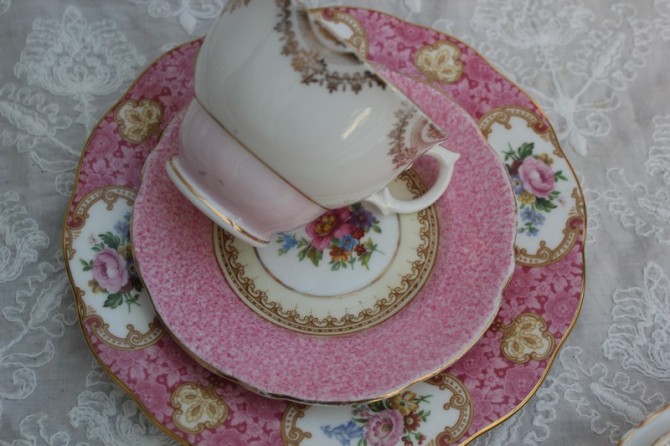 Vintage Tea Cups – which are your favourites?
Vintage tea cups, vintage jugs, vintage bowls, vintage spoons…
I guess we all have one, don't we?
If ever you were woken in the middle of the night by a thundering CRASH!!!, would you know straight away which shelf/cupboard/pile of goodies had finally given up under the strain only to become a chaotic mess all over the floor? Whether you are a hoarder of books, china, vinyl records or funny mugs, you will probably know which guilty pile has finally gotten the better of the bookshelf without even looking.
If you don't know what I'm waffling on about, please just ignore me and look at the pretty photos instead, if you like.
If you DO know, please let me know that I'm not going mad all alone…
Here are a few of my lovelies. I think I might try to photograph a few each week or so – it's a great excuse to get them out and fall in love with them all over again.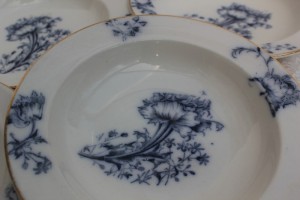 Set of 4 dishes bought in Plymouth 2nd-hand shop this week (are we supposed to call them all 'vintage markets' now? I hope not). I heard someone say, recently, that people don't like gold-rimmed old chinaware because they can't microwave it. To me, staying away from the microwave is a small price to pay for eating from something so lovely! I don't mind a bit, even when the gold shows real signs of age & ware. Age-related ware & tear give a great sense of history, don't you think?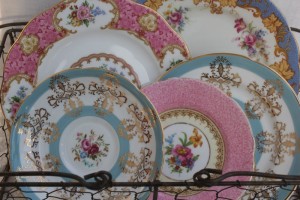 Plates from different times & places in wire basket from Brittany last year.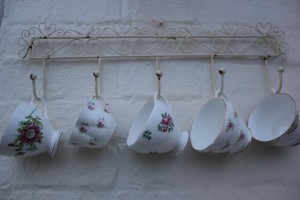 Coats? On coats hooks? You must be joking! What a waste that would be…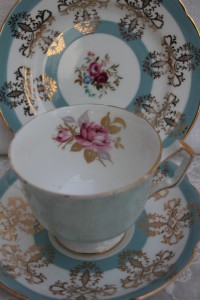 I've found the cup! Not a set, but the cup is a similar colour – it was second-hand and saucer-less so it's much happier now!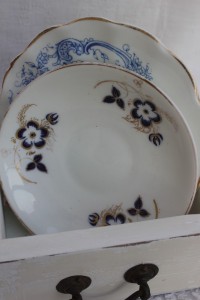 I have cups & plates to go with the saucer behind – from the same set that I sent to one of my tea-cup buddies a couple of weeks ago.
I wonder where the others are…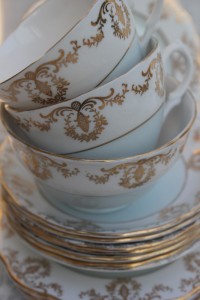 I've had these cups, saucers & plates for years now – and I still love them  – because true love never dies!
Now, I'm off to the shed to dig out some more…