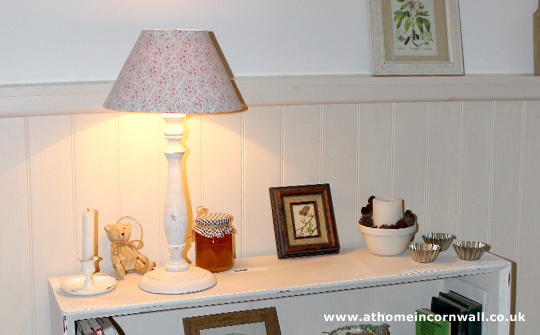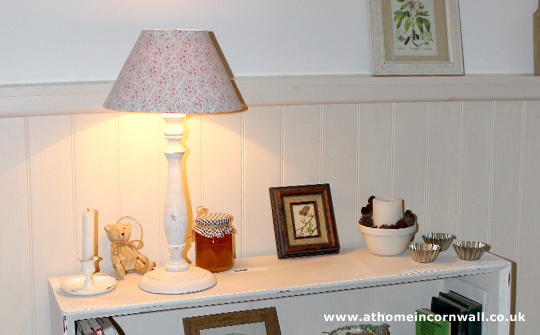 You know how sometimes you come across something which goes in virtually every room of your house? I have two of these shabby chic lamps, originally pine, which I swap from room to room around the cottage as the mood takes me. With such neutral colours, the shades can be changed with the seasons if necessary.
You will need:
Wooden lamp
Medium and fine grade Sandpaper
Undercoat
Topcoat
Paint brushes (& cleaner if necessary)
Furniture wax
First of all (a little like the Christmas tree lights) you'll need to check your lamp is in good working order and, if in any doubt, get it re-wired. Then give the whole thing a good wash, followed by a sand with the medium grade sandpaper and wipe with a damp cloth.
Paint with the undercoat, leaving to dry as per the manufacturer's instructions on the tin. The first coat will probably look very patchy; the second should give a nice even.
Apply 2 top coats, allowing more time than the manufacturer recommends. If you do not allow adequate time for the paint to harden properly, the paint will 'drag' when you start to sand it.
Use the fine grade sandpaper on the edges and the parts of the lamp which would naturally incur the most wear. Aim for a natural effect which is not too symmetrical.
When you are happy with the overall look, wipe the whole piece with a clean damp cloth again to remove the loose paint & sandpaper. Apply at least one coat of wax, leaving it to harden, before 'buffing' with a clean cloth as per the manufacturer's instructions.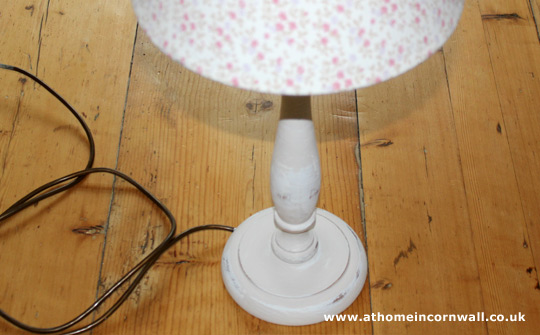 Use masking tape to protect parts which are against the wood that you don't want painted, like the metal fittings and even the end of the lead. It may sound fussy, but it usually well-worth doing when you are applying several coats of paint.