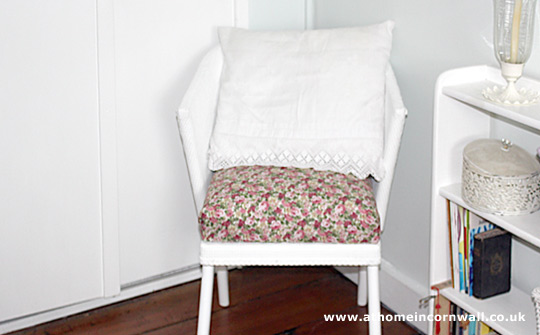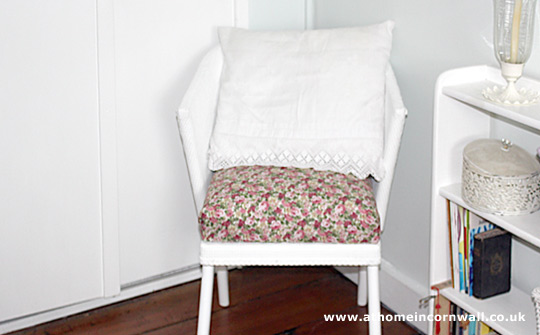 While chairs like this can cost a pretty penny new, if you're lucky, they can still be picked up second hand. When I first saw this chair it was quite a vision – it had been painted a striking dark blue with a matching cushion. I imagine it was used in a child's bedroom or similar, but its cuddly and welcoming shape spoke to me immediately and I thought, taken back to white, it could make a decent gift for my Mum. The paint pot was immediately prised open…
I cleaned the chair all over before sanding, wiping the woodwork to give a good key and cleaning the rest of the chair adequately for the paint to adhere.
Because my chair was such a vivid colour to begin with I had to apply 3 coats of undercoat all over.  Then I applied 2 mat top coats to the main part (excluding the wood), leaving ample drying time between the coats and painted the woodwork with satin paint – a good 2 or three coats I recall.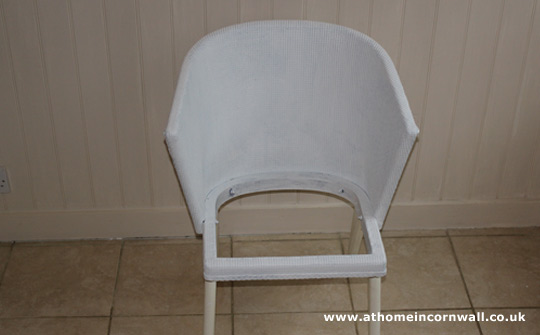 The foam seat was unusually deep so, with a long (kitchen bread) knife, it was easily (but carefully!) cut in half.
Wadding on top of the foam helped to soften the edges and simply needed to be cut to size, allowing enough to cover the sides of the foam. This did not need stitching into place as it clung to the foam like Velcro!
The most difficult bit of this project was covering the seat.
The amateur process I chose meant I allowed plenty of fabric and cut the excess afterwards. I cut my fabric allowing enough to cover the top & sides of the seat, plus a couple of centimetres turned in all the way around (to give a neat edge) AND enough to cover the underneath. I did this in one piece, however, it is probably recommended that you add the piece underneath separately afterwards to give a professional finish. I appreciated a second pair of hands (thanks hubby!) to help keep everything steady while hammering the tacks into the front edge of the seat first, as I had to keep checking the fabric was laying smoothly for a neat finish. I think it's worth taking your time over this and not to hammer the tacks all the way home until you have been all the way around, as it can be very difficult to pull out the tacks to adjust the fabric otherwise (how on earth would I know that?!).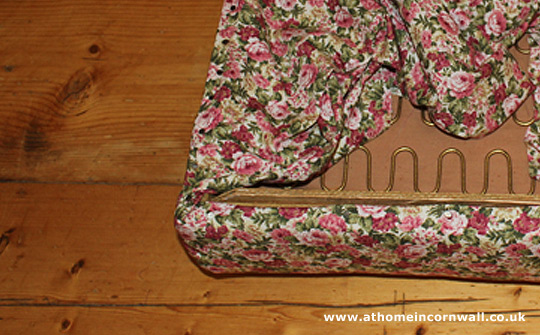 When I had covered what would be the top of the seat, I used the excess fabric to cover the underside and tacked it in place.
Pop the seat back on and- hey presto!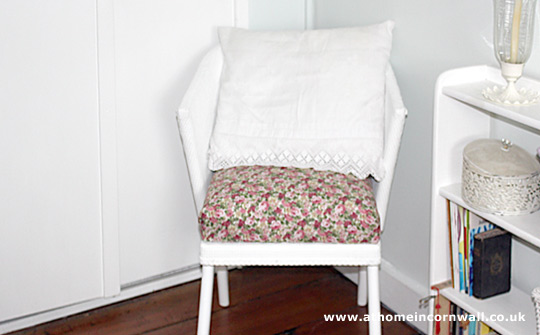 Alternatively, this chair would take a pale fabric, dry-brushed paintwork and a lovely old fashioned crochet cushion dropped on top to give an aged feel to the whole piece. Hmmm, I need to find another chair…
My Mum… Is one of those people who can't resist fabric and re-making things. We often take the mick – with just cause, I'd say – because anything that comes into her house is usually transformed before it leaves again. We're not just talking curtains into cushions here; more like a hankie into a bed cover as she can sew/knit/crochet just about anything. Her sewing room is a proper Aladdin's cave, of course, like a sweet shop for grown-ups which means we love to sneak up there while she's not looking..! And I recon she knows we know she knows we do it so all's fair really!