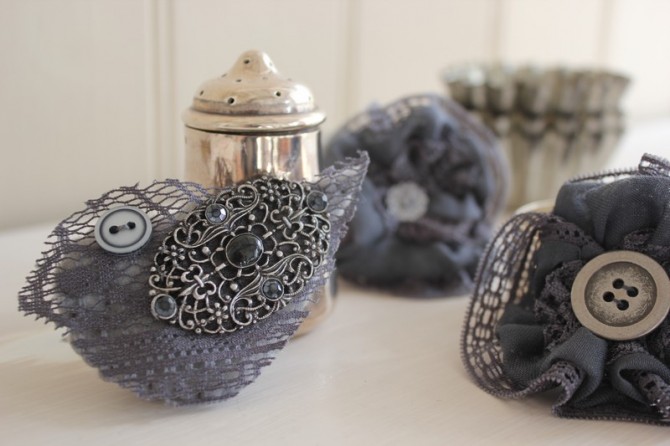 Gorgeous Vintage brooch – I think this looks equally great on a woollen coat, hat bag or anything else you can think of! Using wide lace and sticking to just one colourway gives them a lovely old/vintage look which I love. They're also a great way of using up (and therefore a great excuse of buying more!) odd buttons.
You will need:
Wide lace
Fabric or felt in the same colour
Basic sewing kit
Button(s)
Brooch back
Paper for template
Wadding for filling
Oval piece of jewellery or button for the wing
Dried Lavender if liked
Draw a very simple bird shape template onto the paper and use to cut 2 pieces of felt. From the lace, cut one piece, slightly larger all around and cut one piece from the wadding the slightly smaller.
Stitch your jewellery or button to the felt, to make a wing. Stitch your 'eye' button.
Lay this on top of the wadding then place both on top of the 2nd piece of felt. Neatly stitch all around, leaving a few centimetres open but without cutting you're your thread. Pour in some lavender and stitch the opening closed.
Turn over and stitch on your brooch back.

Have you seen these?
Click here
Click here.

Once you start on these brooches, you soon find you have made half a dozen, as each one spurs you on to make another and you alter the design slightly as you go. Because they take such a small amount of fabric, they're an ideal use for off-cuts.

Attach a hair clip instead or, even better, attach a hair clip AND a brooch back to get the most wear from your piece.