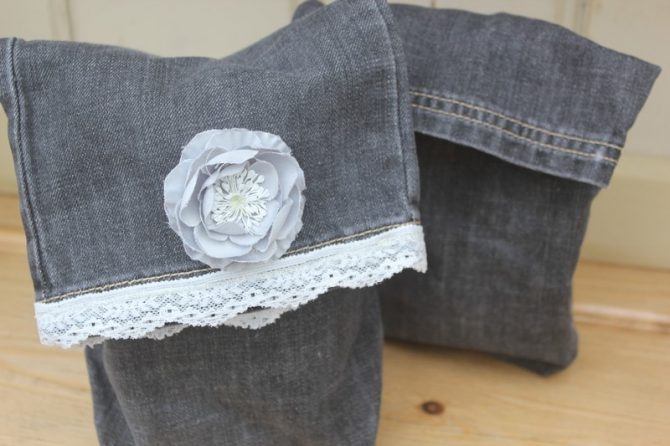 Charity Boxes – little by little…
Little by little. That's my plan, anyway – I'm trying to be realistic and this includes the charity boxes. As the year goes by, every month gets busier not quieter so, why-oh-why do I think I will get more done in later in the year than I do?! I guess I'm just not that bright.
I'm hoping to send a couple of charity boxes later this year – one to an older girl and one to an older boy.
So far I have made this little needlecase using a 'happy' piece of fabric from an old summer dress. I usually stick to natural, subdued colours when I'm stitching but I'm not sure that's going to be very exciting to an older girl. Actually, I'm quite looking forward to using nice, bright colours for a change. And the more I can make with recycled fabrics, the better.
Of course, I will need to buy specific items as well, but I'd like to include several handmade bits and pieces if I can.
I've decorated this little tin (a sweetie tin in its previous life I think) and popped a yo-yo/Suffolk puff flower on top and I will fill it with buttons, threads etc. and –  I intend to keep putting ribbons, buttons, etc. aside to go with them. My lovely Mum has already collected some items for a small sewing kit with scissors, etc. I've also made a flower decoration for a bag or whatever – I'll make a canvas bag too, but that's a job for another day.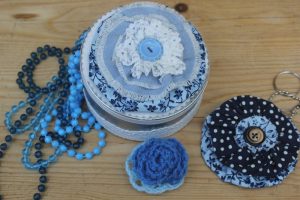 And another little tin with buttons, threads, beads and a brooch…
Hair accessories – do you remember the old scrunchies? Time for a revival, do you think? Here are a few Mum and I have made so far… hope it's not overkill, I just imagine our girl who receives these might like to give them to family and friends if she doesn't want to keep them all as I once read about a little boy who received a necklace in his box and, far from feeling disappointed at receiving something 'girly', he was actually delighted to receive something he could then give to his Mum. How sweet is that?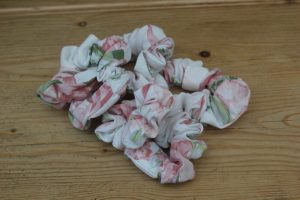 A simple book/notepad. I've always struggled to get them small enough to fit into the box yet have them large enough to be of real use but I'll keep looking throughout the year. In the meantime, I've made these from paper and card. Hopefully one looks feminine and the other more masculine for our Boy's box…?
And I'd like to make and collect several bags and boxes to put these items in. Don't you just love bags and boxes? Not the expensive types, but the sort you collect as a kid. Obviously I've not grown out of that yet. (Not likely to either..!). So far I've made these from old jeans. Again, I'm hoping to embellish them a little more so one can go in the girl's box and the other in the boy's.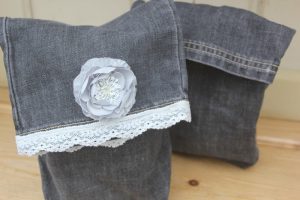 I have started a pinterest board just for charity box ideas – . Not not much on it yet, but give me time as I know there are lots of great ideas out there…