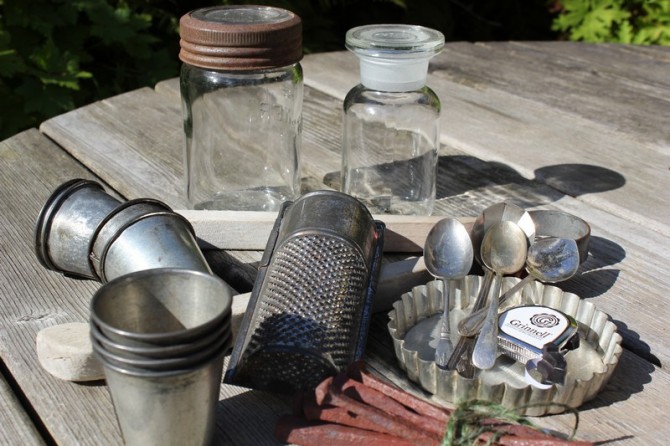 Another great Vintage Fair!
This weekend, I spent a whole day at a local vintage fair – lucky me!
Gorgeous old clothes, live music, vintage homewares, furniture, sparkling jewellery, locally-made gifts, tea and cake in china cups… you get the idea.
Here are a few photos of this fair in Plymouth, one in Tavistock (both only just over the boarder in Devon!) and another fair held recently at Cothele here in Cornwall. All were great days out – I loved them all! Now, my cottage may be fit to bust but – Yes, of course I managed to come home with a fair few goodies from each one…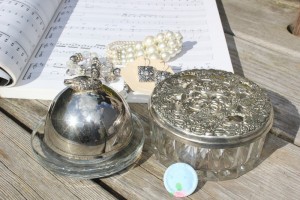 Something glass & silver for the bedroom, a few pieces of pearl/silver jewellery and, front-left, something for the kitchen. Or so I assume – sold with a tea light in it but I assume it would be used for butter/condiments? Well, that's what it's job will be on my table anyway! I know the button looks out of place, but that's because I learned to make it – a Dorset button – in a short workshop at one of the fairs. I can't wait to make more using lovely old linen…
Here's a closer look – I'm probably the only person who hasn't seen it before and you'll tell me they're on sale in ASDA! Never mind, I'm glad to give it a home…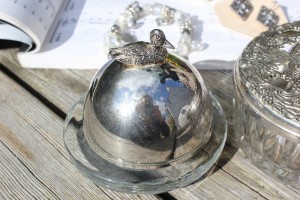 The seller wasn't sure what these were but they look like handles. There is more writing on them which says "Typhoo Tea" so I guess they were promotional. Any ideas?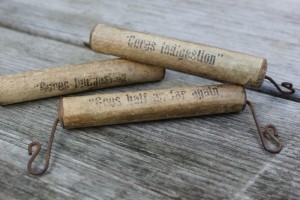 Now, this is a collection rather than a set. I think the tray would have been on a stand originally, and there are some lids missing, as you can see… Not brilliant quality I'm sure, which is perfect for me as I'll use them with flowers/decorations at Christmas and pop them on a shelf for the rest of the year.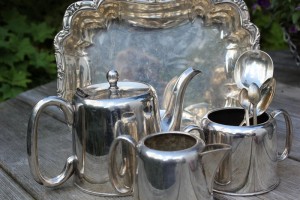 To be honest, this is not a great photo and looks much better in real life – with scented lavender in the summer and filled with old terracotta pots in the winter maybe? We'll see..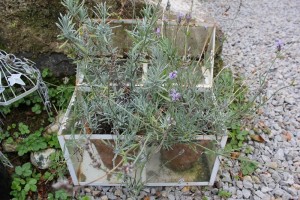 A couple of wire display racks and some enamel dishes from a local second-hand furniture shop.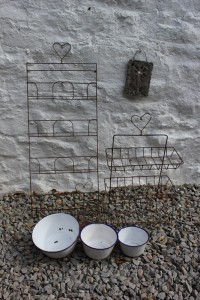 This little wire item is difficult to see in the photo above – it was half covered in 2 different paints but I've taken a tooth brush and some nail varnish remover to it on the back, and the paint seems to becoming off nicely. I love to paint anything that stands still (almost anything) but if it's a lovely rusty metal underneath, why cover it up with paint?! I'm thinking it could hold a small plant or, with a glass inside, could be a candle holder or a pen pot or…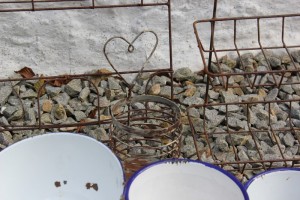 Ah yes… Aren't these lovely? I paid £5 each and have, so far, treated them for woodworm and started to uncover the seat pads. I don't know how much I'll do to them – they're a lovely colour, so I'm not inclined to paint the woodwork but I'll have to see how they look with the seats recovered. Ideally, I would re-cover with a similar velvet looking fabric, or perhaps a nice damask… the jury is still out so I guess I'll just have to go fabric-hunting – shame! I love the faded-grandeur of the velvet but it is very well worn and looks like it has been home to some small creatures at some time… so they're not allowed in the house yet.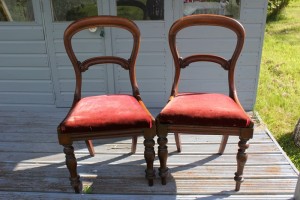 This is a fair sized wooden box – it was displaying old jewellery at a carboot recently and when I asked if the box itself was for sale – yes, it was! It may get a proper repair job at some point in the future, but not soon. The seller said she'd had it for some time as a project she'd never gotten around too. If I sold even half the items that are still on my "to do" list, I'd be living in a pretty empty cottage… So let's not go there…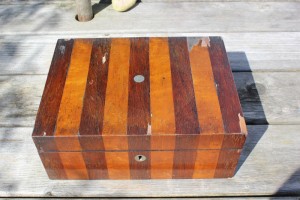 For now I think I'll pop some new paper or fabric inside as use it as display at craft fairs.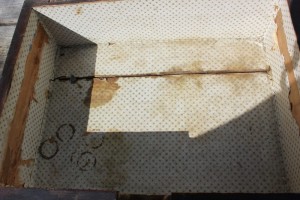 Of course, no box would be complete without a nosy cat it! This one is called Rice. He and his sister (Pudding) are new additions to our little family.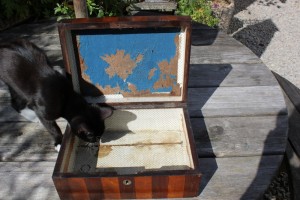 OK, these are just paper plates but they are SO pretty I just had to take a photo! They've fared pretty well so far, considering they were covered in lovely walnut cake, scones and gluten-free carrot cake yesterday at the vintage fair… yum.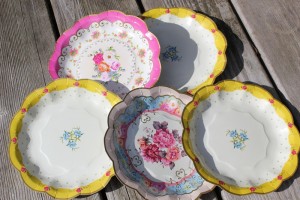 This is my favourite kind of shopping basket – they all came from the same vintage fair recently, except the Kilner and other jar, which were carboot finds. Totally irresistible to me…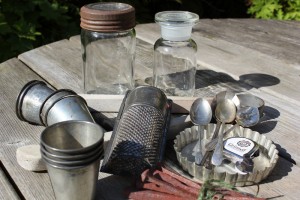 And finally… since Rice was so keen on getting in on the act, I thought he deserved his own picture…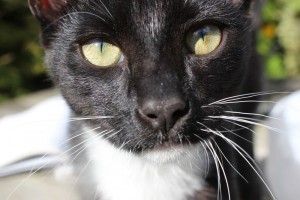 A few more fairs in the coming months to look forward to. Heaven, don't you think?