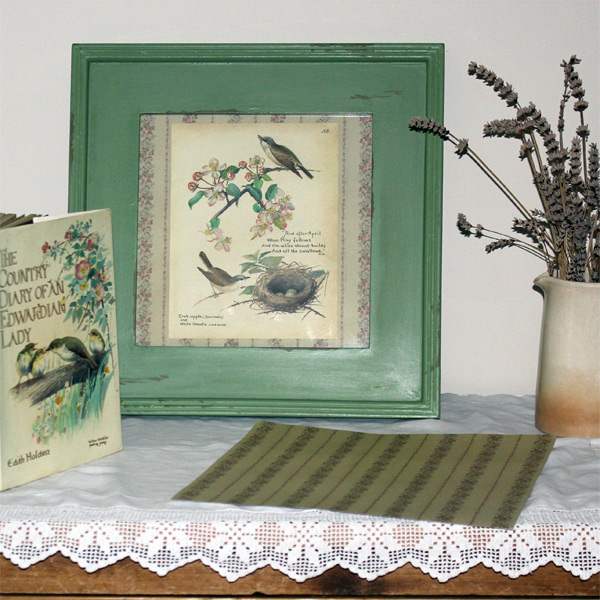 If, like me, you have a heap of frames gathering dust while waiting for the perfect pictures to come along to fill them, look for inspiration in of your favourite in books. If you are making the picture for someone else, pick up a second hand book on their hobby/interest or even use map of Cornwall or somewhere you've spent a special holiday. If you find yourself screaming at the thought of taking a scalpel to any book, scan and print the picture. However, I sometimes find it difficult to achieve exactly the same colour quality as the original. In any case, I prefer to make use of the picture somewhere I can see it daily rather than keep it only for those occasions I have the book open and a cup of tea in hand (not half as often as we'd all like!).
You will need:
Picture frame – as bought or painted yourself (see separate instructions for painted frames)
Book of favourite illustrations or scanned and printed copy of chosen picture
Sheet of patterned paper to act as the mount
Adhesive/paper glue
Scalpel or scissors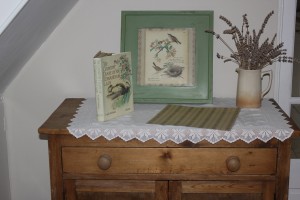 Obviously no instructions are necessary as this is purely a case of assembling, however do consider whether you need to cut the mount or, as in my bird picture, if you can glue the picture directly onto the backing paper. A spray adhesive (Spray Mount or similar) will allow you to reposition the picture however this shouldn't really be necessary. Double-sided tape will hold equally as well if you have it to hand.
Mark the centre on the backing paper first if you prefer; especially if you are using glue. If you are using a spray adhesive, remember to allow plenty of scrap paper/newspaper around the pic as that stuff can get everywhere and is a real paint to clean off afterwards!