Easter cups – shabby chic home made Easter gifts
These look so lovely as gifts, don't you think? Fill an extra one with spring flowers for your own windowsill or line a few up on your kitchen shelf. To me, they are shabby chic because they are simple, using old faded cups – add a little chocolate if you like but the cups are the stars of the show!
Use a small round Biodegradable Coir Pot and cut it down to the correct size – it will need checking every day/couple of days to ensure the soil doesn't dry out but you won't need to worry about drainage holes. If you do want to plant directly into the cup, remember to pop a piece of masking tape over the area you want to drill into to try to avoid it cracking the cup. Adding some moss (plenty in our garden!!!) finishes it off nicely.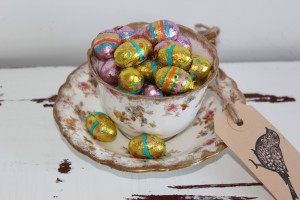 For someone who likes chocolate but still likes vintage china cups much more, this is a pretty good gift. I even found a natural stamped tag to finish it off nicely. Or, these look great dotted around your Easter lunch table (although I'm pretty sure little fingers would empty them quickly!). A good gift for children to give, too, as they will love filling them with different chocolates/sweets.
"One for Nanny, one for me. One for Nanny, two for me…".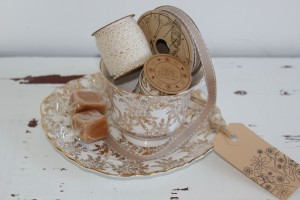 For the stitcher in the family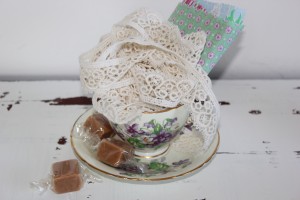 I've managed to fit in a few pieces of fabric here, too.
It's amazing how much you can fit in to one tiny little cup when you try!
Easter cups – shabby chic home made Easter gifts
Linked up with http://tatertotsandjello.com/2015/03/link-party-palooza-and-50-target-giveaway-2.html