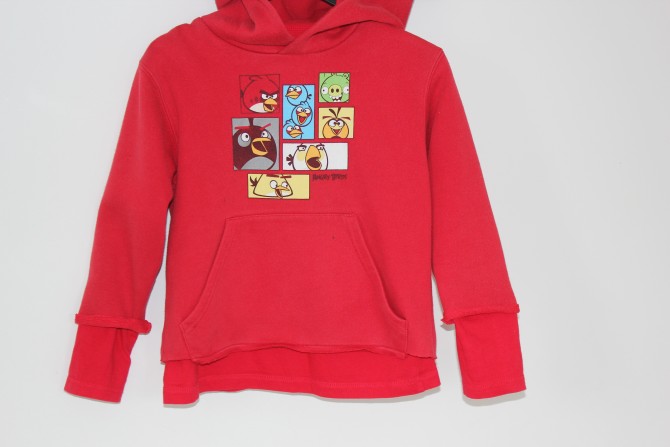 Well, I wasn't quite sure what to call this: Enlarged? Recycled? I chose Upcycled child's hoodie purely because this was an old favourite, therefore it was also well-worn, scruffy around the cuffs and virtually useless. Until I came across an equally well-worn, scruffy pyjama T-Shirt with 'peeling' pictures… Ideal.
When I asked my little boy to try this on I knew I was risking a "what – that?! I don't like Angry Birds any more Mum…!" But, to my pleasant surprise I got a "Oh – great!" Now, maybe he was being kind to me or maybe I don't even recognise blatant sarcasm when it's coming from my own flesh and blood. No – I'm choosing to believe this was a winner and I'm going to make him wear it this weekend…
Anyway, you can see that all I did was to cut off the cuffs and waistband and ran the sewing machine around around them (to re-seal the bottom of the front pocket and also to help the fabric curl up nicely around the edges). Then I chopped the sleeves and bottom of the body from the T-shirt and sewed these on. Of course, I could have done this all in one step but I am not that efficient… but you could be!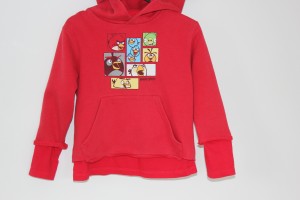 Oh great. That's old jumpers and old T-shirts that I have to add to the stash now as well. Seriously, is there nothing I can throw?!