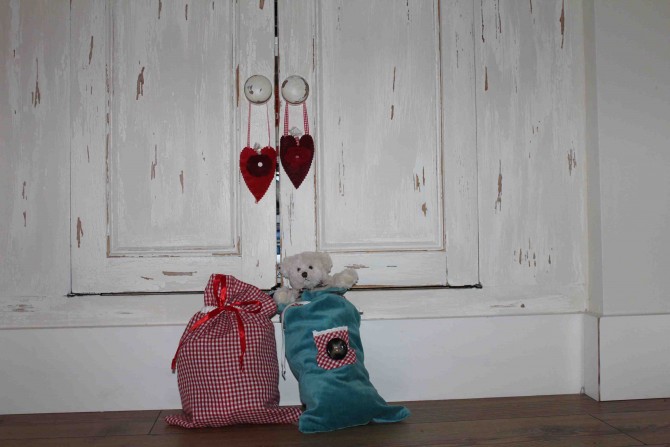 Bags from pyjamas in 15 minutes – recycled fabric
These great little bags have a multitude of uses. Depending on your fabric choice, they can be used for Christmas or other gifts, toiletries, jewellery, toys… the list is endless and they are so simple to make. The key is to choose your recycled fabric carefully – where most of the work is already done for you – here, I have used pyjamas and children's trousers. Look out for ready-made pockets, frilly edging, etc. To me, they are a great way of using special pieces of fabric and buttons you just can't bear to part with for sentimental reasons. If you are using them for gifts, keep them in the family and there'll be no reason why they can't come out and be used over and over, for many Christmases to come.
You will need:
Old pyjamas or trousers complete with buttons/pockets/other embellishments to use as recycled fabrics
Wide ribbon/bias for the outside
Narrow ribbon/cord
Basic sewing kit
My photos show various steps of various bags – they were so quick that I forgot take a snap at each stage!
With the PJs/trousers the right way out, simply cut the bottoms off the legs, about 1 cm longer than your final length, keeping the finished seem at the bottom of the original trousers intact – this will become the top of your new bag. Sew the open edges together, leaving 1cm seem allowance.
Turn inside out and sew again, 1cm up to encase your rough edges. This really is worth the effort as it takes only a couple of minutes longer and makes the finished bag much, much neater. Turn the right way out again.
Pin the wide ribbon around the circumference of the bag, leaving a gap of a couple of centimetres or so at the front and tucking a generous amount of ribbon in at the open edges to prevent it fraying over time. Sew one line a few millimetres from the top and another a few millimetres from the bottom to create a channel.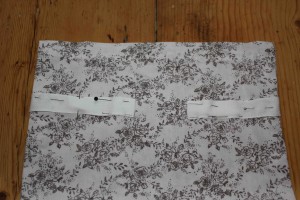 Attach a safety pin to one end of your narrow ribbon or cord and feed through the channel you have just created. Take off the pin, cut the ribbon/cord to size (add a bead if you fancy it) and tie a knot at each end to prevent fraying. Add a slip knot to join the ends of the ribbon/cord if you like, or leave them free to be tied. That's all there is to it!
Add your embellishments – sew on the pockets, buttons and any other trimmings you'd like to use. In theory, these are easier attached before the first step; however, if deciding what to use as you go, I find it easier to do this at the end and hand sew them at this stage.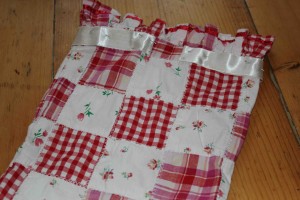 Keep things easy – for this one, I choose fabric which was already patchwork, with fancy edging already attached to use as the top edge. Perfect!
And for this green velvet bag, I used some children's velvet trousers then just added the pocket from a girl's school dress. I've left the pocket open at the top to stash some sweets, too.
Linked up at Tatertots & Jello