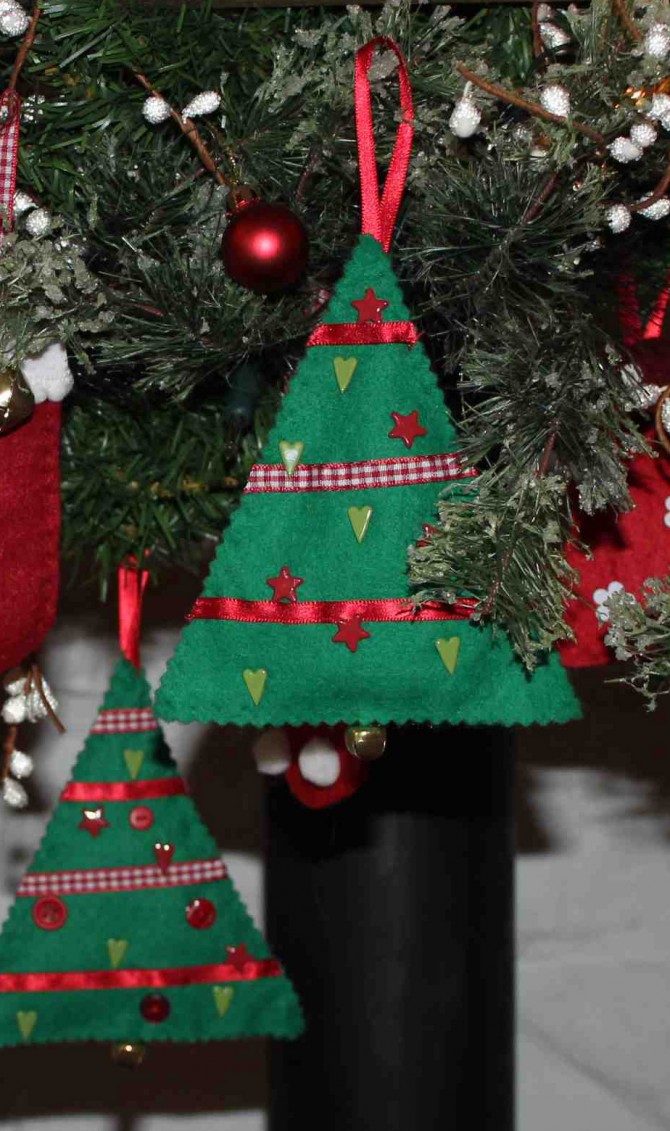 Felt Home Made Christmas Decorations
"Oh Christmas tree, oh Christmas tree…"
Small stuffed Christmas trees, good for hanging on the big tree but even better hung on some greenery surrounded by twinkling lights around the fireplace.
We are able to hang these on the garland around the fireplace this year, because it's a non-working fireplace. None of these home made Christmas decorations should, of course, be placed near to any kind of naked flame.
You will need:
Felt
Small buttons , paper fasteners, bells
Ribbon, pom-pom trimming, individual pom-poms, etc.
Thin card
Basic sewing kit
Wadding (for filling)
Fabric glue or all-purpose glue, if using
Draw a template onto card and cut it out. (If you are not confident in drawing freehand, fold a piece of paper in half, draw half a tree using the folded edge as the centre line of your tree, cut out and use this paper shape to make your card template. You may even find the paper template easier to use than the card). Even though the shape is so simple, I find a template helpful to ensure all my trees are of uniform size. Of course, the finished trees don't need to be the same shape or size as each other as long as you have a front and back 'pair' to each tree.
Pin your template onto the felt and cut 2 trees per finished item. If you have an idea of how many items you'd like to make, it is worth using the card template to draw as many shapes as you need onto the felt at this stage, remembering to place them as close together as possible to make best use of the fabric. Cut them out, using pinking shears if you wish.
With the ribbon, make a hanger by making a simple loop. Put the ends together and sew the ends to the top of one of the trees. The side of the tree with the raw ends of the ribbon showing will be the inside of your finished item.
Before you sew the two tree shapes together, decorate just the front (or, for a better finish, the back as well) by stitching buttons, bells, etc. on to your tree. Pretty paper-fasteners can be pushed through the felt easily if you make a hole with a needle first. Ribbon and pom-pom trimming can be sewn on for a 'garland' appearance although I would suggest you pin these into position first.
Cut your wadding using the same template, only a little smaller. Sandwich one piece of wadding between two pieces of felt, with the stitching inside. You could also add some crushed cinnamon sticks or similar to give some fragrance. Fix these pieces together with a couple of pins if you like, and sew around the shape a few millimetres in from the edge. A bell at the bottom adds a cute touch and makes it really tactile!
Don't forget to be as economical with your felt as you can, turning the shapes and placing them as closely together as possible. I think a mini forest, of different shapes and sizes, look great.
Also linked up to http://tatertotsandjello.com