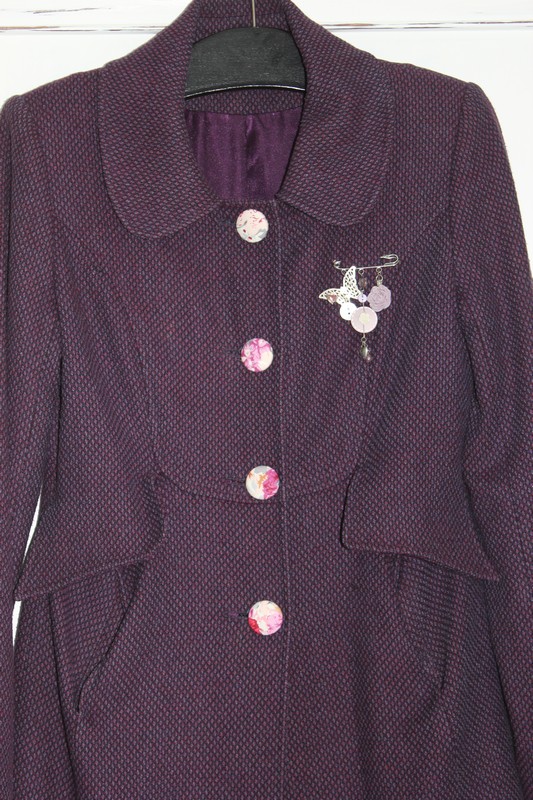 Charity shop coat upcycled with DIY covered buttons
The top was at least one size too small in the shop. It was still a size too small when I tried it on. And – disappointingly – it hasn't miraculously grown in my wardrobe either. Why did I buy it then?!? Well, I do love it, and true love lasts forever….
This coat was in the charity shop – just looking at me – the whole time I was browsing.
Purple? Not really my colour. And a new coat as we are coming into spring? It was the last thing I should have been buying.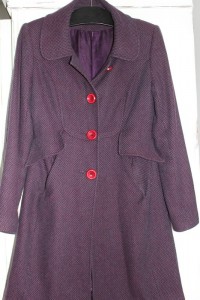 It showed signs of wear, so it needed a good going over with the bobble-cutter-thingy. And those red buttons? Not sure why they were on a purple coat, but that was easy to sort. And, when I went through my stash, that lovely top-that-never-fitted came into its own. At last…!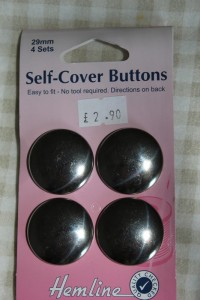 I hadn't covered buttons for a while, so it re-kindled my interest and – I think – it turned out okay. For someone who didn't think purple was her colour, I have a surprising number of dresses and skirts that go with it too… and this little brooch that I made several months ago. Certainly makes me feel less guilty about that top…
Ta-da! My new Charity shop coat upcycled with DIY covered buttons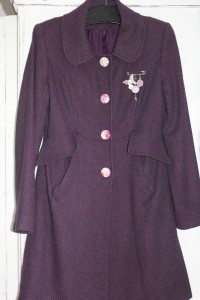 Hey – guess what? While I was trying on top-that-never-fitted again before putting the scissors to it (just to make absolutely sure it still hadn't grown!!!) I realised I may be able to use the front of it for something else… click here to see it.